Debit Card
A Kinecta Debit Card is the fastest, easiest and most convenient way to access your account and pay for your everyday purchases.
How it works:
Money will always come out of your checking or share savings account.
Use your card for purchases and pay bills.
Use your card at ATMs. Kinecta Debit Card users enjoy nationwide access to thousands of CO-OP ATMs and Shared Branch locations with no fees incurred.
Types of Cards:
Personal Debit Card
The Mastercard Platinum Debit Card is linked to your primary checking account and makes it easy to pay for everyday purchases at retailers and service providers. With security features such as Zero Liability Protection and new chip technology, you can rest-assured you are protected from fraudulent activity.
What is unique about your Kinecta Debit Card?
Enjoy all the benefits and security of using your Kinecta Mastercard Debit Card:
Zero Liability Protection - You are not liable for any unauthorized debit card transactions (purchases and ATM withdrawals) when you notify us promptly.
Extended Warranty* - Doubles the manufacturer's or store brand warranty for up to one year.
Purchase Assurance* - Coverage for most purchases if the item is damaged or stolen.
Mastercard PayPass® - A secure, contactless technology you can use for many of your purchases.
Learn more about all the Mastercard Benefits here.
Once you are enrolled into one of our overdraft protection services you'll never experience the inconvenience of a transaction being declined due to insufficient funds. Kinecta will authorize the transaction on your behalf. The enrollment is free and there is no annual fee for this service.
Learn about our overdraft protection options here.
The Kinecta Mastercard Debit Card comes with an added security layer for financial protection. Every Debit Card features a microchip embedded in the card. This chip technology makes it difficult to counterfeit your information and helps prevent you from becoming a victim of fraud.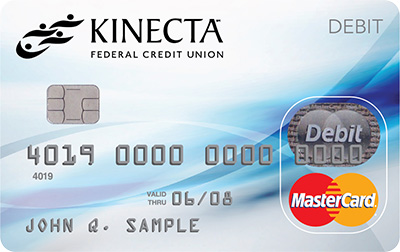 ---
Business Debit Card
The Debit Card is available for business members and is linked to a business checking account. The Kinecta Mastercard Business Debit Card is an easy and convenient way to access your account and pay for purchases such as office supplies, gas and bills.
Card benefits:
No annual fee
No charge when used at any CO-OP ATM
Zero Liability for unauthorized transactions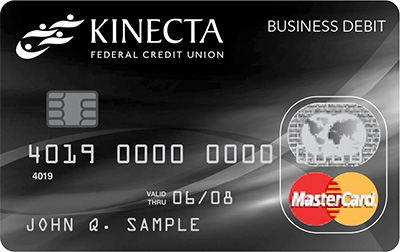 ---
*Certain terms, conditions and exclusions apply. Mastercard is a registered trademark and PayPass is a trademark of MasterCard International Incorporated.