We're raising the bar when it comes to protecting your car.
Kinecta helps bridge the insurance GAP.
Your car means the world to you. This is why you might select the best insurance. Even with insurance coverage the amount you owe on your car may not be covered. That's because depreciation often leaves a "gap" between what you owe on the car and its actual cash value. If your vehicle is damaged beyond repair, or stolen and not recovered, you could be left paying the difference, and it could be thousands of dollars.
That's why Kinecta gives you the option of investing in Guaranteed Asset Protection (GAP) Advantage with PowerBuy™. In most cases, you'll be more than covered; with up to $6,000 towards a new car while covering what's left on your loan after the insurance settlement.1
Here's a typical example to show how it works:
Let's say that you owe $24,000 on your vehicle and you total it, beyond repair. After subtracting your deductible, the insurance company awards you $22,000 for damages.
| | |
| --- | --- |
| Your purchase price | $29,000 |
| Your loan balance | $24,000 |
| Your insurance company pays | $22,000 |
| Remaining loan balance | $2,000 |
WITHOUT GAP Advantage with PowerBuy™, you could suffer a $2,000 out-of-pocket expense. WITH GAP, not only would your $2,000 remaining loan balance be paid, but up to an additional $6,000 would be provided towards the financing of a replacement vehicle with us.
| | |
| --- | --- |
| GAP Benefit | $2,000 |
| GAP Advantage Benefit | $1,000 |
| PowerBuy™ Benefit | $5,000 |
| Total Benefit | $8,000 |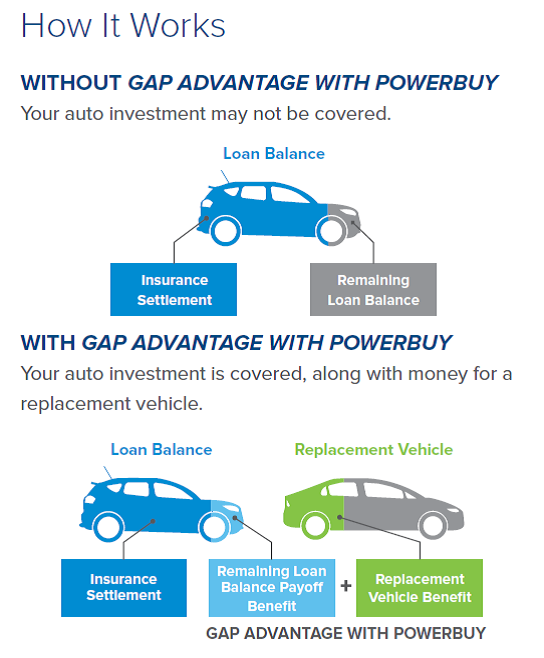 When should you get GAP Advantage with PowerBuy™?
GAP Advantage can be added at the time you finance your automobile, van, light truck or SUV. It can also be added to eligible vehicles financed within the past 12 months.2
---
Guaranteed Asset Protection is not a product of Kinecta Federal Credit Union. Product is administered by Southwest Business Corporation (SWBC).
Your purchase of GAP Advantage with PowerBuy™ is optional. Whether or not you purchase GAP Advantage with PowerBuy™ will not affect your application for credit or the terms of an existing credit agreement you have with the financial institution. There are eligibility requirements, conditions, and exclusions that could prevent you from receiving benefits under GAP Advantage with PowerBuy™. You should carefully read the contract for a full explanation of the terms.
PowerBuy™ is only in force for the first 36 months of GAP coverage. PowerBuy™ benefit is in addition to the GAP Advantage benefit up to $5,000. $1,000 GAP Advantage benefit remains in force through the term of the loan and if replacement vehicle is financed through Kinecta within 90 days of the settlement.
Purchase of GAP will either be refinanced into your Kinecta auto loan or paid out of pocket, based on the number of payments that have been made on the loan. If a credit card payment option is made, the charge will be processed as a cash advance and different rates may apply. Check your credit card agreement for applicable cash advance rates. Please check with Kinecta representative for full payment options.