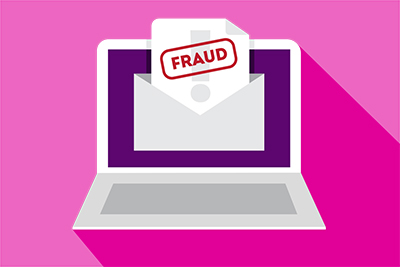 Beware of Mortgage Loan Fraud Scammers Using Email Accounts of Realtors/Escrow Companies
There has been a reported increase in scammers targeting consumers with fraud schemes involving mortgage loan purchases/refinances.

Scammers are creating email addresses to impersonate realtors and escrow/title companies. These email addresses are designed to "appear" legitimate, nearly identical to actual mortgage loan representatives.

The fraud emails are received around the time consumers are expecting to receive instructions on how to wire the closing costs, down payments, fees, etc. The email instructs the homebuyer to wire the money to a specified account, which actually belongs to the scammer rather than a legitimate company.
Protect Yourself From These Scammers:
Before you wire money, speak with your realtor/escrow officer in person or by phone to determine the wiring instructions and account numbers are legitimate.
Beware of emailing financial information through an unsecured channel.
Beware of storing sensitive documents with personal information in folders in your email account.
Carefully review the originating address on the email received. Often these fraudulent emails contain a variation of the true addresses. For example, the true email address jane.doe@kinecta.org may be altered to state jane.doekinectafcu@gmail.com.
Always be cautious about opening attachments and downloading files from email, regardless of who they are from. These files may contain malware, a harmful virus.
Ensure that your browser and anti-virus security software are up-to-date.
For more information on fraud scams and identity theft protection, please call the Member Contact Center of Kinecta Federal Credit Union at 800-854-9846.