Introducing Our New Huntington Beach Branch
We are pleased to announce that our Westminster branch will be relocating to its new Huntington Beach location, which opens for business at
9 a.m. on
Monday, June 21, 2021
. This new state-of-the-art branch is located at 7881 Edinger Ave., Suite 120, Huntington Beach, CA 92647.
The Westminster branch will be permanently closed as of
6 p.m. on
Friday, June 18, 2021
. The new Huntington Beach branch is conveniently located just 2 miles south on the 405 Freeway.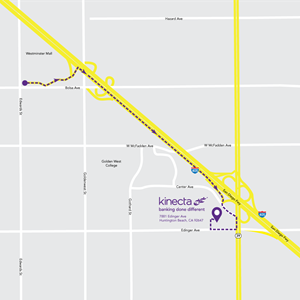 Click the map to enlarge
There are several exciting features available to you in our new Huntington Beach branch, including a sleek design, 24-hour ATM lobby, and ample parking, among other upgrades.
Huntington Beach Hours of Operation:
Monday - Friday: 9 a.m. – 6 p.m.
Saturday: 10 a.m. – 2 p.m.