Kinecta Proudly Displays Rainbow Lights in Recognition of Pride Month
Published: June 25, 2021
Kinecta Federal Credit Union is decked out in rainbow colors for the month of June to recognize Pride Month, an annual holiday when the LGBTQ+ communities come together and celebrate the freedom to be themselves. Last year in June during Pride Month, Kinecta renewed its commitment to diversity, equity and inclusion with the formation of the Kinecta Diversity Council, which is composed of 15 employees from different backgrounds and a wide range of positions and departments.
In support of the LGBTQ+ community, the Diversity Council partnered with Covenant House, a non-profit youth homeless shelter that provides sanctuary and support for homeless and trafficked youth, ages 18-24. According to their website "while LGBTQ+ youth make up only 7% of the total U.S. youth population, they comprise an astounding 40% of all young people experiencing homelessness in the country, according to one estimate." So far, Kinecta's diversity council has raised more than $5,000, donated blankets, and implemented a financial literacy series for the residents and sponsored the organization's gala. They've also organized a Pride Month lunch and learn.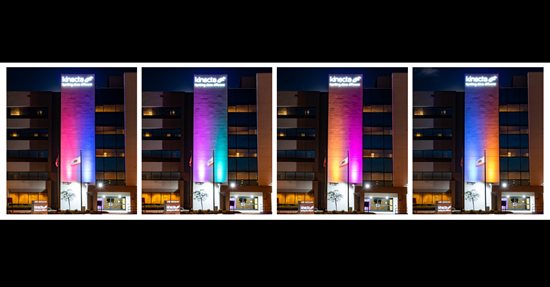 Click on image to enlarge
Joe Pezley, a Diversity Council member, said the council's efforts have meant a lot to him.
"Celebrating Pride to me means not being afraid of being different or ashamed of who I am,"
said Pezley.
"I am so grateful to Kinecta for the opportunity to celebrate Pride so freely and openly."